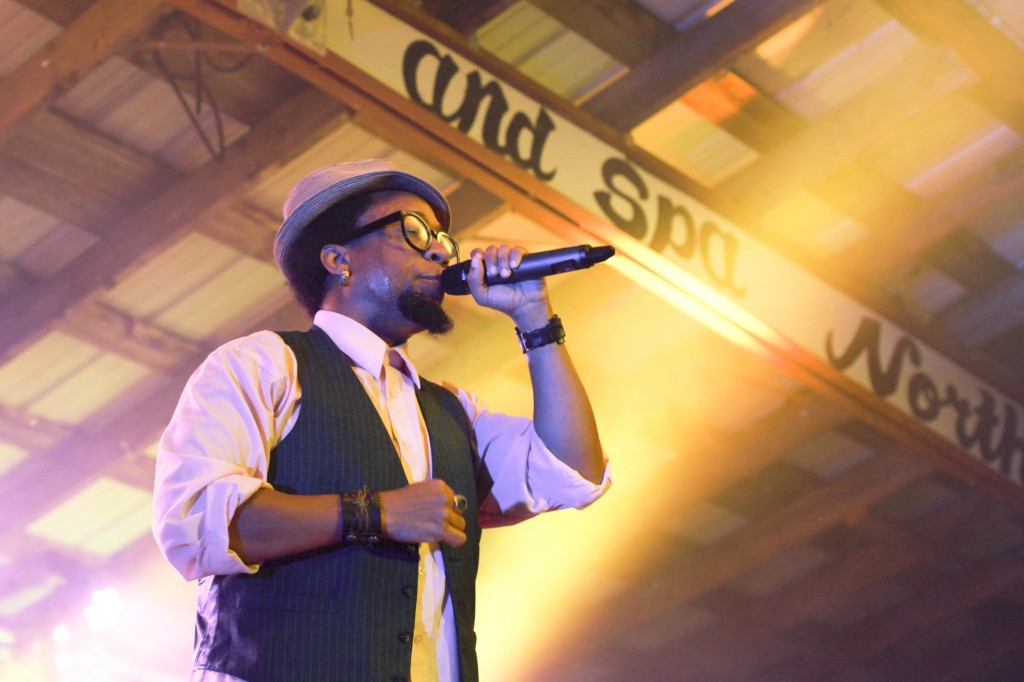 Have I ever told you how I met Speech from Arrested Development? Not the TV show, but the 1993 Rolling Stone band of the year, whose smart and visionary hip- hop shaped a sound in the 1990's and provided the earliest soundtrack for my young adulthood. (If you haven't heard the song "Tennessee" by Arrested Development, stop what you're doing and go buy it.)
Anyway, I met Speech, the cofounder and leader of Arrested Development, at the Wild Goose Festival in 2013. This was just one of many momentous moments at last year's Wild Goose Festival, to say nothing of the momentous moments of previous years. Sadly, this year circumstances prohibit me from attending, so I'll be at Wild Goose only in spirit.
Fortunately, my friends and coworkers from InterVarsity Press will be there again, in what will be IVP's fourth year sponsoring Wild Goose. We sponsor each year because it only makes sense; so many of our authors are fixtures of the festival that Wild Goose is a sort of homecoming for us every year. This year is no different: we'll be reunited with Kathy Khang (coauthor of More Than Serving Tea), Leroy Barber (author of Everyday Missions), Fred Bahnson (coauthor of Making Peace with the Land), Dave Csinos (coauthor of Children's Ministry in the Way of Jesus), Mark Van Steenwyk (author of The Unkingdom of God) and Noel Castellanos (author of the forthcoming When the Cross Meets the Street). And those are just the authors we know about!


But wait, there's more. This year Wild Goose has put together a "publishers' tent," which means we'll be exhibiting alongside our other publishing friends. We'll also have book signings by a handful of our authors, namely Tim Soerens (coauthor of The New Parish), Chris Smith (coauthor of Slow Church), Alexia Salvatierra (coauthor of Faith-Rooted Organizing) and Mark Scandrette (author of Free and Practicing the Way of Jesus).
And if you're an author or aspire to be, you'll be pleased to know there's a "literary track" a Goose this year, too. One session, entitled "Buzz! Buzz! Buzz! How to Promote Your Book," features our very own online publicist, Adrianna Wright. Or if your bucket list includes photo bombing a publisher, keep an eye out for our videographer Nathan Baker-Lutz (Nate), who will be collecting footage of all the goings-on. And of course the tireless Andrew Bronson will be around as well, making sure the whole thing goes smoothly. If you happen to stumble upon any of them, do me a favor and tell them I miss them. Then tell them to get back to work.
I'm envious, I admit it, that I won't be with you at the Goose this year. The Goose is many things—a music festival, a curated conversation, a camping trip—but it's also an answer to a broadly felt need. I'm reminded of the lyrics to "A Sort of Homecoming" by U2; what they sing about is what people come to the Goose in search of, and what they leave the Goose remembering with fondness:
And you hunger for the time
Time to heal, desire, time
And your earth moves beneath
Your own dream landscape.
Or as Speech might say about the Goose: Love is contagious.
by Dave Zimmerman, InterVarsity Press