We're grateful to the VanHoy Farms & Campground for their hospitality and ask that you please adhere to the following festival camping policies in addition to all other campground policies and the Festival Community Guidelines. For more information about VanHoy and the Union Grove area, see Map to the Goose.
LOCATION

VanHoy Farms & Campground is located at 738 Jericho Rd, Harmony, NC. From I-77, take exit 65 (NC 901) east, then an immediate right onto Jericho Road.
If you have a ticket, are a co-creator, volunteer, or need to purchase a ticket, check in at ticketing. Please do not enter the campsite without first checking in.
It's a good idea to print your tickets ahead of time, or have a screenshot available on your mobile device. This will save you and our check-in team a lot of time.
Accessibility, Arrival, Camping, Nearby Accommodations, and other Information below.
The best way to experience the Wild Goose Festival is to camp! That's why a tent camping site is included with every Festival Pass. All camping is first-come, first-served. The campgrounds will open on Thursday, and you'll have a chance to unload at your site. Please note that cars will not be allowed at camp sites once the Festival has begun.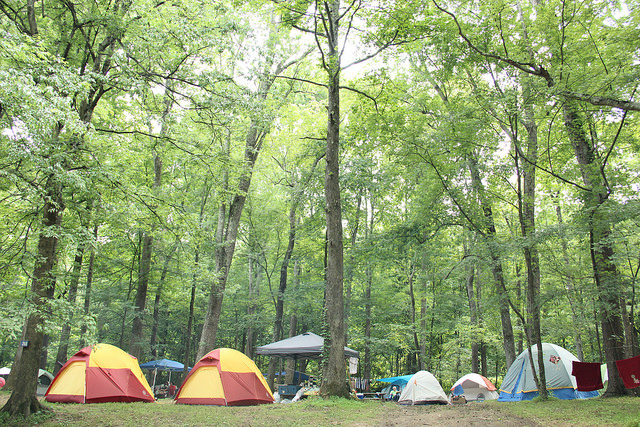 Not a fan of packing and setting up your tent and campsite? Please note that camping arrangements can be provide by Dana's Outdoor Adventures.
Dana's Camping Edventures takes all of the work out of camping so that you get to just show up, relax and enjoy! She will have your tent, air mattress and chair set up before you arrive and break it down after you leave. She will also have a big campfire for you and whoever you meet to enjoy each night! Dana is arriving 

Monday

and departing

Monday

so if you need to arrive early or stay late she can accommodate you. Go to Dana's Outdoor Edventures or call 704-650-8508 to make a reservation.
GLAMPING
Do you want to get the full benefit of Wild Goose, but don't want to camp? Ever tried glamorous camping, or "glamping?"
We have multiple packages to suit your needs.
Glamping reservations for 2023 will open soon. Please check back!
GAS, FOOD, & FUEL

You can find gas, food, and fuel within a short drive. There is a gas station just off I-77, to the west of the interstate. There is a Dollar General and a Family Dollar about ten minutes away in Harmony, NC.
There is a small General Store in Union Grove, about five minutes to the west on NC 901.
Statesville, about 20 minutes south on I-77, and Elkin, about 20 minutes north on I-77 each have a variety of options for gas, food, and fuel, as well as lodging and shopping.
LEAVE NO TRACE
Please pack with a plan to minimize waste. Reduce what you bring. Reuse as much as possible by bringing refillable water bottles, coffee mugs, and even silverware or plates you can carry with you to use and wash. Trash stations will be available and we do our best to arrange for recycling. Please have a system for sorting at your campsite, pay close attention to the stations, and participate in leaving the campground better than we found it.
Also, please note that, in order to protect native species, we ask that you do not bring firewood if you are traveling more than an hour to VanHoy.
ARRIVAL
The Festival campgrounds open at 10 am on Thursday. There will be no registration available prior to this time.
Thursday,  10 am – 4 pm
Campers may bring their vehicle on site for 30 minutes to unload. Vehicles will then need to be parked in the designated parking area. Campers are welcome to access and use their car from the parking area anytime, but no public traffic will be permitted back on the campsite until the close of the festival at 12:30 pm on Sunday. Due to the limited size of the campgrounds and the safety of all festival goers, campers may not leave their vehicles parked at their campsites after 4 pm Thursday. A limited number of Car Camping tickets will be available (see below). At 4 pm, Rangers will help clear the site of all vehicles. Vehicles remaining on site after 4pm will be subject to towing.
EARLY ARRIVAL (Monday, Tuesday, or Wednesday)
Volunteers may arrive before Thursday but must notify their Team Lead in advance. Volunteers camping prior to Monday need to make arrangements with the campground before arrival.
If you purchased Glamping or Dana's Tent, your tent will be ready by Wednesday.
If you're setting up your own tent: If the tent company hasn't completed their setup of all our venue tents, our liability insurance requires that you set up away from areas where they are working. You're welcome to move later, if you like, after the tent company has completed their install.
LATE ARRIVAL (after 4:00 PM Thursday)
Check in closes at 8:30pm. If you arrive after 8:30pm here is the After Hours process:
Enter VanHoy Farms through the exit sign and park in ADA parking (on your left hand side as you pull in). You will need to carry your things into your tent site. In the morning, you must move your car before noon and go through the regular check in process. Campers who arrive at or after 4 pm Thursday will not be permitted to bring their vehicle on site unless they are using a Car Camping site.
Campers may walk their supplies on site and the Shuttle may be available to help. RVs will not be permitted to drive on the campgrounds after dark for the safety of other campers.
COMMUNICATING
Cell phones should work at and around the area of the campground. There's a cell tower very close.
PARKING
Parking passes are available on our website. If you have not purchased a pass in advance, please have cash available upon arrival for parking. Parking passes are $20 for the entire weekend (or $10 per day). All festival parking will be in a designated area. Campers may access their vehicles and re-park at any time; however, without a car camping pass, vehicles are not permitted on the campsite during the festival.
MEDICAL AND MOBILITY SHUTTLE
A shuttle will be available throughout the duration of the festival for transportation around the site and to the Parking Area for medical and mobility accommodations. Other festival-goers may ride the shuttle with priority to those needing additional accommodations. Please don't be shy in flagging down the shuttle!
CAMPSITES
Campsites are not assigned or reserved by site numbers. The space is open camping, first come/first served. Please be hospitable and share the space. You are welcome to bring your own fire pits.
We encourage families to exercise caution when selecting their campsites and monitoring children throughout. Please respect the few designated camping areas to accommodate needs of others such as Quiet Camping (starts at 9 pm), Medical & Mobility areas, No-Smoke Camping (including camp fires), Vendors and Exhibitors Camping, etc.
Dana's Camping Edventures takes all of the work out of camping so that you get to just show up, relax and enjoy! See information at the top of this page to get in contact with Dana to make sure you have an enjoyable camping experience with less hassle!
RV CAMPING
Hookup Sites are SOLD OUT for 2023. Non-hookup Sites are still available here.

If you are interested in booking an RV Site, they will be available to be booked directly through Wild Goose. Make sure you are signed up for Wild Goose emails – these sell out very quickly!
RV CAMPING – with Hook Ups

RVs must be parked by 4 pm Thursday and remain parked until 12:30 pm Sunday. There will be no exceptions to this other than true emergencies. Additional vehicles will be subject to the regular parking policies and remain in the Parking Area.
RV CAMPING – RVs less than 20ft in length with no hookups or dumpsite
This type of spot is for cars, pop-up campers, vans, etc., which do not need hookups of any kind (e.g., electricity, water, waste) AND the vehicle is being used for sleeping (no tent, etc).
Please park closely, and considerately. Campers are permitted anywhere in the open camping area. This is subject to change according to weather and other site production needs. Please obey any posted signs or instructions from Festival staff or Rangers.
RV Campers must display vehicle camping pass on your windshield or in a window that is easy for Rangers to see from the road.
CAR CAMPING
Car Camping is a new option for the festival. A limited number of sites for Car Camping will be located within a designated area. From 4 pm Thursday until 12:30 pm Sunday, vehicles will need to remain parked at their site. Car Camping Sites will be booked directly through Wild Goose.
LODGING – Nearby Accommodations
There are a variety of hotels and motels located about 20 minutes away from VanHoy along the Interstate, in both Statesville and Elkin.
Also in Statesville are self-booking options like Sleep Inn, Fairfield Inn & Suites, Days Inn, Holiday Inn Express & Suites, and more.
Near Elkin, options such as Best Western Plus Yadkin Valley Inn & Suites, Quality Inn Jonesville, Hamilton Inn Jonesville, Hampton Inn Jonesville, and more.
Alternative options, such as cabin rentals or Airbnb-type bookings are extremely sparse nearby.
MEDICAL & MOBILITY CAMPING
There are options for folks with specific medical or mobility needs. There will be spaces reserved that are limited and carry an additional expense. If you have special needs in regard to camping, lodging and/or site accessibility, please contact our Accessibility Coordinator Carrie Craig at carrie@wildgoosefestival.org.
ICE
Ice is available for sale at the VanHoy office and at the 7-Eleven in Union Grove.
DEPARTURE
On Sunday, from 9 – 11 am Shuttle assistance may be available to aid in transporting camping supplies over to the Parking Area.
The Festival closes at 12:30 pm on Sunday and campers should be off the site by 4 pm. Vehicles will be permitted on site to load camp supplies. Please breakdown your campsite first, then bring your vehicle on site to load. This will help with safety and the flow of traffic in the limited space.
SAFETY
Be safe: beware of yellow jackets; and stay hydrated! We have a First-Aid at the Ranger Station.
SECURITY
Festival staff and Rangers will be providing security, although we cannot guarantee the safety of valuables. Security or local Police have the right to remove people from the premises who are disruptive or who jeopardize the safety of others through intoxication or reckless behavior.
ALCOHOL
Please consume responsibly and respectfully. If you are consuming alcohol at the stages or tents please keep it in a cup or coozy. Alcohol may not be taken off the campground.
Public intoxication and drug abuse are not acceptable. You will be asked to leave the site and not permitted re-entry if you are intoxicated.
BIKES
Please walk bikes through the pathways in crowded areas. Use caution and consideration for pedestrians and children. Bicycles must have lights after dark. Motorized personal use vehicles are not allowed, except in the case of special mobility needs.
PETS
Pets are not permitted at the festival. Service dogs are permitted, please let us know in advance so we can accommodate them.
Prohibited Items
Weapons of mass destruction (or any other sort of weapon)
Illegal Drugs
Fireworks of any kind
Pets
Drones
Beer Kegs