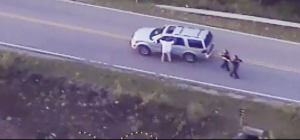 Those of us in the Wild Goose community are reeling from the horrifying and tragic events of this week: the police shootings of Terence Crutcher in Tulsa and Keith Lamont Scott in Charlotte, two more names on a list that seems to grow longer and longer every day.
We abhor the racism and violence that is tearing our country apart and we call for those responsible for these killings to be held accountable. We follow a God of inclusion and love, and we stand in solidarity with all those who work for restorative justice and for building the beloved community.
We know that many of the people of color from the Wild Goose community are in unbearable pain right now, feeling hurt, angry and betrayed, nearly hopeless, and deeply afraid for their very lives.
Many from the Wild Goose community who have been raised white are weeping with their brothers and sisters of color, want to stand in solidarity with them and are sick to death of the systemic anti-Black racism that has authorized and empowered the targeting, assault and killing of black and brown bodies in this country.
And thankfully, many from the Wild Goose community are in Charlotte, deeply engaged in practical, productive, on-ground support.
But many of us are spread out across the country and unsure how we can stand with each other. How we can cry out for justice. How we can say "No more."
Here are four things we believe the Wild Goose community can do together, wherever we are:
1. Lament
Rev. Jennifer Bailey, minister, community organizer, a Founder of the Faith Matters Network has said, "The type of healing we need can only be borne out of lament — a lament that holds space in the deepest pits of our beings for the piercing sorrow and rage being expressed by black communities, cultivates empathy, and puts restorative justice at the center of our collective action."
It's time to weep and mourn and cry out to God in our pain, grief and confusion, and yes, also, confess our complicity in a system of injustice. We invite you to stop and take a few moments for a simple ritual of lament and prayer each week, to light a candle and name the names of people who've been killed.
We have created a prayer of lament for you to use if you wish, which you can download here. Or come up with your own words.
You might want to do this with your family or gather with some friends around a table. You might want to kneel. You might want to create your own wailing wall or a jar of tears. However you do this each week, to remember that we are lamenting as a community, please share a photo to our @WildGooseFest Instagram page tagging it #WildGooseLaments.
2. Learn
Jim Wallis, author, preacher, and Sojourners magazine founder and editor, has recently written a book called America's Original Sin: Racism, White Privilege, and the Bridge to a New America.  If you haven't read it already, order a copy here. Then, starting Next Thursday, Sept. 29, at 8 p.m., Jim is inviting us all to join him on Facebook Live for the first in a series of conversations that he's calling " Race, Faith and 2016." These discussions, about how issues of race and faith are playing out in society today and are reflected in this fall's political campaigns, will continue each Thursday night between now and Election Day.
3. Listen
A survey on values by the Public Religion Research Institute not long ago reported that 75% of white Americans have "entirely white social networks."
Despite what some of us might want to believe, we live in an incredibly segregated society. To change that, we have to start talking about important things… and listening, truly listening… with people of different colors than our own. Yes, it may be awkward. Let us be brave enough to be awkward. And when you do, let's share our experiences with each other in the comments section below.
4. Love
"Let's not just talk about love; let's practice real love." That's the call we hear from our scriptures (1 John 3:18, The Message). And as Dr. Cornell West has said, "Justice is what love looks like in public." We can practice real love in many different ways. Speaking out against racial injustice on social media, in our schools and offices and churches. We can also participate by getting involved with groups dedicated to ending racial injustice like the #BlackLivesMatter movement…they have many local chapters. As does the group, Showing Up for Racial Justice. There are many other local grassroots efforts going on across the country. Tell us about ones you know about and invite fellow Wild Goose folks to join you through our Facebook page and Twitter feed.
Rev. Dr. Jacqui Lewis of Middle Collegiate Church in New York has said, "Love looks like this: Prophetic grief. Tears falling heavy. And activism that ends racism."
Join us in letting the tears fall, in confession, in action, in real love. And please join the conversation in the comments section below.
Plans are already very aggressively under way to make sure racial justice will be front and center at the 2017 Wild Goose Festival. Let's fight this fight together – in every way possible!