When Carrie Craig first attended Wild Goose Festival in 2013, she didn't know what to expect.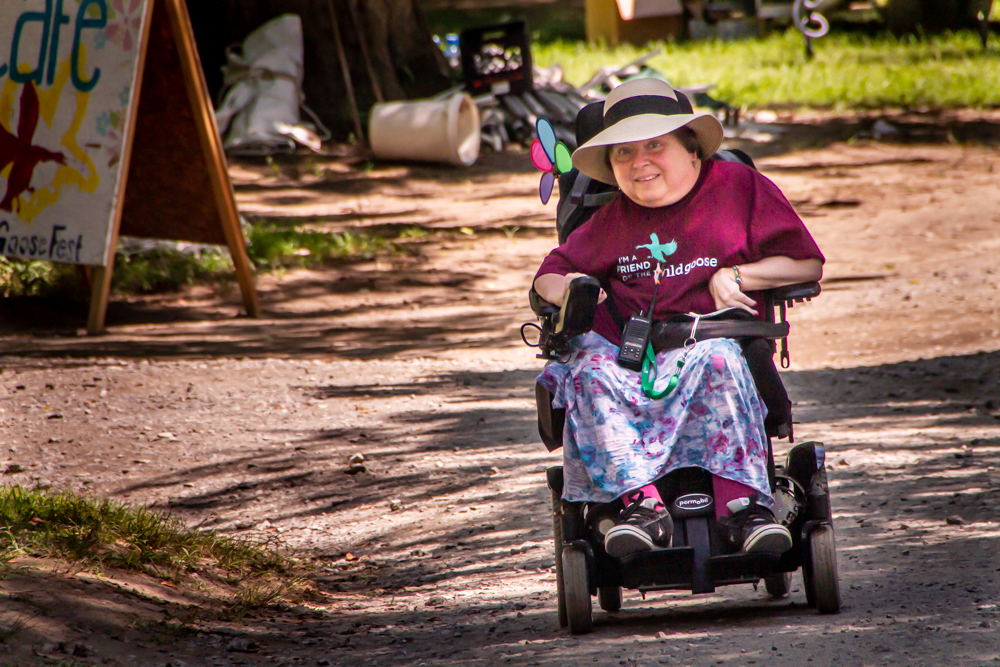 Would there be accessibility? Would there be help if needed? Carrie has been disabled since birth.  She spent her first few years getting around by crawling or being carried on her daddy's back or shoulders until she was about 4 when she received and began using her first wheelchair.
Being an Episcopal Priest for over 20 years, Carrie was confident that the festival would align well with her spiritual needs, given the attitude of acceptance; the spirit of connecting people of all backgrounds and religious leanings; and the relationship she had with festival planners, but whether or not it would meet her physical needs was an unknown.
Carrie visited Hot Springs Campground, where the festival is held, several days before the start of the festival and determined that it could work.  Not knowing what to expect, she had not planned to stay on site, so she commuted each day back and forth from her home in Asheville, NC. She quickly realized that the plan she had made was not the best way to get the most from Wild Goose and determined to make a better plan for future festivals.
A few months after that festival in 2013, Carrie was approached by members of the Wild Goose Festival team asking if she would be willing to work as the Accessibility Coordinator for the festival, assisting with and consulting on issues around ADA compliance. Given her focus on independence as a priority and her lifelong commitment to accessibility for disabled individuals, this was an easy YES!  
With purposeful intention, Carrie worked on building an environment that was open to consider options for accessibility at the festival. As the contact person she began to develop relationships and saw the community with personal interest in faith and disability grow.  She works hand in hand with Joanne Ciccarello who oversees ASL needs for attendees to the festival. Over the years, other festival attendees such as Heather Morgan, who comes from Canada to attend the festival, have joined in to add their voices and perspectives to the conversation.
Each year, there is work done to improve the festival for those with various types of special needs. The team strives to learn from each festival about what could be improved to make the next year better. Improvements through the years include medical electric campsites, increased organized shuttle service, and a specific ADA site area. The most significant contribution this team makes to those attending with disabilities is the relational aspect.  Knowing individually who needs what creates confidence for festival goers that attendance is not only possible, but that a great experience can be expected.
Writer Stephanie Tait says to others with disability, "You are a kingdom asset, not a liability. The Body isn't simply tolerating you, we NEED you. You reflect a key facet of our huge multifaceted God – without you, we would see God less clearly, less whole, less true to who God is." This is a belief wholly embraced by Carrie and her team.
At the Goose, you will find a camping area specifically set aside for those who need to support electrical devices; a team of volunteers ready to help set up campers in this area and available throughout the festival for needs as they arise; ASL interpreters for sessions where attendees have requested this service; and motel space set aside for people who are unable to camp. New at the Goose in 2020 will be increased resources for access, hospitality, information, and a calming space for those who need to separate from the noise and busyness of the festival.  
Marginalized communities are valued at a premium in the space where Wild Goose Festival exists, and this includes those with disabilities. Whether something as simple as directional signs that indicate the easiest path to take, or the implementation of spaces and tents for specific sessions or informational purposes, every year brings something that creates a better experience for those in this community. This year, Carrie and her team are extremely excited to have several sessions led by disabled presenters – expanding and highlighting the voices of those from the margins to our diverse lineup.
If you, like Carrie in 2013, are intrigued by Wild Goose Festival and would love to attend, but have reservations about the space and its ability to meet your physical needs, please know that your needs are a priority to Wild Goose, and there are many working to make sure the festival is as prepared as possible to meet those needs. Please contact Carrie Craig at carrie@wildgoosefestival.org with any accessibility or general ADA related questions or to request interpreting services. 
We hope to see you at Wild Goose 2020 and are working to make sure it is an experience defined solely by the power and tenderness that lives there. #Wildgoose2020