Hospitality and kindness are at the heart of the Wild Goose community. So much so that someone who was once simply providing a service to our community actually became a part of it. 
…
So, we packed up our Subaru, made the pilgrimage north, and pitched our tent. As luck would have it, we had the cleanest port-a-potty in the history of port-a-potties right across from our campsite. So my wife, being the sweet soul she is, made it a point to make sure she met and thanked the person who cleaned and stocked our little corner of heaven.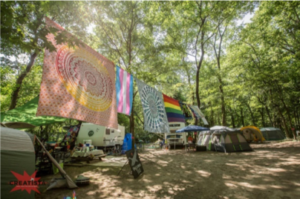 That person was Mike from Griffin Services in Asheville. Mike came over from Asheville twice a day to clean and restock all the port-a-potties at the festival and, as Keller Williams sings, 'We fell in love in a port-a-potty line'!
As we became familiar with his schedule, it was easy to speak with him and thank him for his service to us and the festival. Mike said we should put in a good word for him at corporate; which we did as soon as we had cell service again. 😏
Fast-forward to the next year and we're coming into Hot Springs with our pull-behind camper down the hill from Marshall with a parade of folks behind us. (We're from Florida -PEOPLE, driving down these hills is crazy.)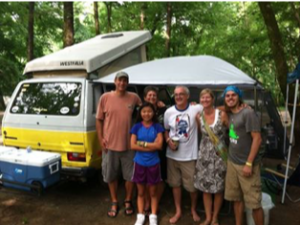 They were honking and waving (at least some of them were waving, some were also giving hand signals) like we
needed to pull over. Of course, there's no spot to pull over 'til the bottom and when we did get stopped, we realized our bike rack had failed us and our bikes were dragging behind us. So, who pulls up behind us with a flatbed full of port-o-potties? Our boy Mike!
We reintroduce ourselves, say a little thank you that no one was harmed by our bike-dragging debacle, and Mike immediately loads our bikes on his flatbed and delivers them directly to our campsite at The Goose.
Now on to last year, after another call to Griffin, Mike is upset with us because they've made him supervisor due to our ringing endorsements over the last two years. However, after he forgave us for that, he decided that he'd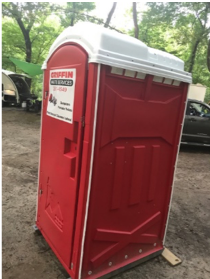 maybe spend a night or two at our campsite; which he did. As we had the opportunity to spend time with Mike and hear more of his story, he quickly became part of our tribe.
We shared meals, stories, and, most importantly, on Sunday morning we shared another meal; communion with Mike.
This year, if you stop by Intersections campsite (it's more of a compound, actually), Mike will be with us for the whole festival and you can share your story and a meal with him!
See you soon!
Tim and Jan Kerr
…
Stories like this happen all the time at Wild Goose. This year, come expecting amazing things and be ready to share yours!