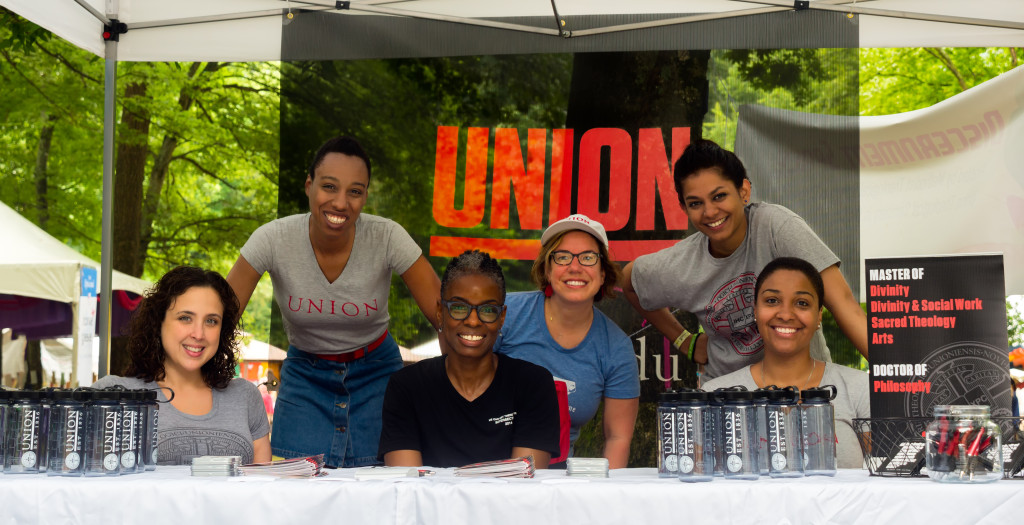 The Admissions Team at Union Theological Seminary in the City of New York is back again at the Goose.  Last year we had such a great time greeting our fabulous alumni/ae and meeting prospective students that we couldn't stay away!
The idea of theological education can be a big step.  We are grateful to again be able to share our Union experiences as students and alumni/ae. We were also really moved to see folks from all over the country, and the world, connecting at our recruitment table. That we played a role in facilitating these surprising connections was a real highlight of our experience.  And we are grateful.
At Wild Goose, there is no shortage of booths to visit and people to meet. Between the warm welcome from the people of Hot Springs, NC to the visiting community that's built especially for this weekend, you're sure to find something that piques your interest and feeds your passion. We hope that Union Theological Seminary can be on that list of inspirations.
So come and find us in the Spirituality Tent this year.  Just look for the large "Union" banner.  We will again have a team of folks ready to answer any questions you may have, from "what is seminary like," to "how do you manage living in New York City?" and anything in between.  And if you don't have any questions, you are warmly invited to share some of your story, reminisce about Union, or simply say "hello." We look forward to seeing you!
– The Admissions Team of Union Theological Seminary in the City of New York
admissions@utsnyc.edu