May the Sacrament of the Word and the hunger of our hearts meet, leading us ever more deeply into your heart, O God. Amen.

Guest Post by Gwen Fry
Having grown up in The Episcopal Church the most cherished memory I have as a child in the pew was hearing the sentence at the end of our Gospel reading today spoken/read during the service out of the 1928 Book of Common Prayer. I distinctly remember setting aside the weekly hang man game I was playing with my friend in the pew when the service neared that point in the liturgy in anticipation of the incredibly freeing and hopeful string of words. This is how it sounded to my youthful ears all those years ago. "Come unto me, all ye that travail and are heavy laden, and I will refresh you." I can still feel the lightness in my heart and weight off my shoulders as those words of comfort washed over and through me.
I was happy to see that with the Book of Common Prayer revision that the comfortable words were still there in the Rite 1 Eucharist. What I did not expect was what appeared with the new addition of Compline to the prayer book. This office instantly became my favorite daily office because of its pastoral tone and ease with which it flowed as the last office of the day. It really did, at least for me, make for a "peaceful night and perfect end." I think part of that was because of the prayer that begins "Keep watch, dear Lord, with those who work, or watch, or weep this night"…. But the biggest reason was because of one of the reading options. "Come to me, all you that are weary and are carrying heavy burdens, and I will give you rest. Take my yoke upon you, and learn from me; for I am gentle and humble in heart, and you will find rest for your souls. For my yoke is easy, and my burden is light."
And so I've carried these particular verses as a touchstone throughout my life. I never totally understood the profound transformative effect they have had on me until rather recently. I mean, I knew they were restful and brought a deep sense of peace to my inner life. But it wasn't until two years ago that it was literally made manifest in my life. It was in July of 2015, the first time I attended The Wild Goose Festival, a four day festival at the intersection of spirit, justice, music, and art, in Hot Springs, North Carolina. I was invited to be a panelist in a session titled Sacred Wounds: Healing from Spiritual Trauma. I was scared to death, for many reasons that summer, and I don't mind letting people know that in the least. I had never participated in a national event before. I wasn't sure anyone would be interested in what I had to say. I didn't know how hundreds of festival attendees would react to me. My experience everywhere I went drew attention from people. And in those days it wasn't positive attention. What I experienced upon my arrival at the festival was nothing short of transformative. The first thing I noticed was that those few hundred I thought that were going to attend was more like 5,000. And there wasn't one single smirk or stare. No sideward glances or people pointing at me and saying something to their friend. It was so noticeable because of the absence of those things.
For the first time in a long time I was accepted, no questions asked, and I felt absolutely safe in that space. As luck would have it my session was on the first day of the festival. That first evening I was introduced to an event called Beer and Hymns. Yes, it is pretty much exactly what it sounds like. People gathered and sang good old time Gospel hymns while having a beer. Well, most of them were gospel hymns. The one that drew me into the circle like a magnet was actually a song by U2 off of their Joshua Tree album titled I Still Haven't Found What I'm Looking For. It is an amazing song, well gospel hymn. Listen to it if you haven't heard it before. It's a song about searching for God, searching for Christ.
The opening lyrics are:
I have climbed the highest mountains
I have run through the fields
Only to be with you
Only to be with you
I have run I have crawled
I have scaled these city walls
These city walls
Only to be with you
But I still haven't found
What I'm looking for
Later in the evening the Episcopal tent at the festival hosted the nightly Compline service. There were about 100 people gathered in a circle as we prayed. Lord, grant us a peaceful night and a perfect end. And then, those amazing peaceful transformative words, those particular verses that have been a touchstone for me throughout my life, washed over and through me like never before.
While I walked back to my room for the night it suddenly all fell into place for me. We all are constantly searching for God and the sacred in life and rarely do we find what we are looking for. We carry the heavy burdens that fill our lives with us wherever we go and they weigh us down to the point that it doesn't seem possible to take another step or climb yet another wall in our search. But there will be that day – and time – and place – where those words of comfort and comfortable words become manifest. When you least expect it as you find yourself in a very scary place in your life that touchstone will be there waiting for you. And the word will become flesh before your very eyes. It will be obvious to you because there will be no stares or sneers, no pointing and whispering. There will be only total unconditional acceptance where you will discover that heavy yoke has been lifted and replaced with one that is easy and light. It will be made manifest in your presence and look like 5,000 people gathered because they too have come there searching hurting and carrying their own heavy burdens to find them loosed in a place that gives them rest for their souls. It will be obvious, oh so obvious, because when you least expect it Christ will be made manifest before your very eyes with outstretched arms saying; "Come unto me, all ye that travail and are heavy laden, and I will refresh you. Take my yoke upon you, and learn from me; for I am gentle and lowly in heart, and you will find rest for your souls. For my yoke is easy, and my burden is light."
I return to the Wild Goose Festival for a third year this coming week and I can already feel that lightness and peace.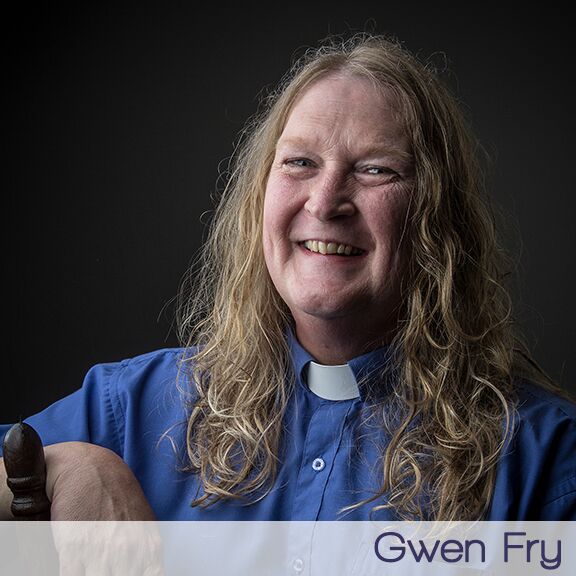 Gwen Fry
The Reverend Gwen Fry is an ordained Episcopal priest in the Diocese of Arkansas. Her experience coming out as a trans woman of faith makes her keenly aware of the necessity for the equality of all God's children.
Experiencing the effects of discrimination first hand, she has been actively involved in the work of justice in the transgender community both in Arkansas and across the Episcopal Church.
Gwen is an advocate and activist for the transgender community who was a leader in the coalition of organizations who fought back the anti-transgender bills introduced in the Arkansas General Assembly this year. She is the Vice President of National Affairs for Integrity USA. She is a board member of Pridecorps, an LGBTQ youth center in Little Rock, Arkansas. An active member of TransEpiscopal, Gwen, also serves on its steering committee.