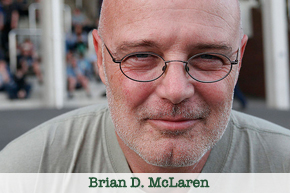 Brian D. McLaren is an author, speaker, activist, and networker among innovative Christian leaders. His dozen-plus books include "A New Kind of Christianity," "A Generous Orthodoxy," "Naked Spirituality," and "Why Did Jesus, Moses, the Buddha, and Mohammed Cross the Road?" He and his wife, Grace, live in Florida and have four adult children and four grandchildren. He's an avid wildlife and outdoors enthusiast. His new book, We Make the Road by Walking, is available now.
Talk – Wordless Prayer
Join author Brian McLaren and yoga teacher Suzanne Jackson as they guide you through a moving prayer form entitled Wordless Prayer. Brian will introduce each prayer sequence with prayer and commentary and Suzanne will demonstrate movements from Yoga, Tai Chi and QiGong to bring you into a contemplative and vibrant form of prayer. By weaving movement through prayer, the body, mind, and spirit combine into a whole body prayer bringing an intimate connection to God, the creator. People from any religious tradition will find value in this simple, doable, and yet deep approach to spirituality and prayer.