We are THRILLED to announce the Wild Goose 2015 featured musical artists!
Get your ears and hearts ready for this fantastic line-up: Gungor, Matt Morris, Emmanuel Jal, Timothy's Gift with Wild Goose family member Melissa Greene, Ty Herndon, Melinda Doolittle, The Brilliance, and The Liturgists.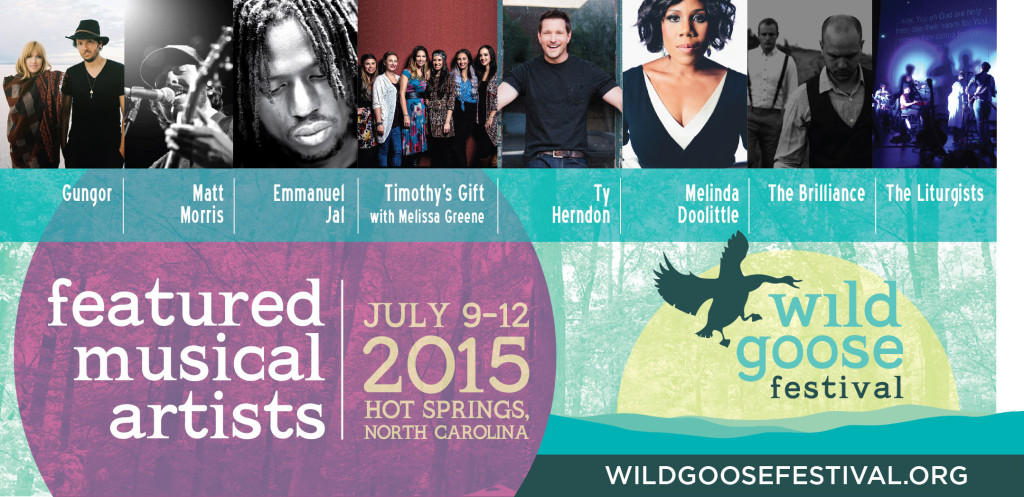 Gungor
Michael and Lisa Gungor are curators of this Grammy-nominated musical collective. The duo uses their skills as accomplished songwriters and multi-instrumentalists to tell honest and forthright stories – some personal and some allegorical.
Matt Morris
Matt is a world renowned songwriter and music producer who has written with some of the industry's brightest stars including Sarah McLachlan, Cher, Mary J. Blige, and Justin Timberlake.
Watch Matt with Justin Timberlake on Ellen.
Emmanuel Jal
Emmanuel Jal was born into the life of a child soldier in the war-torn region of Southern Sudan. Through unbelievable struggles, he managed to go on to achieve worldwide acclaim for his unique style of hip hop with its message of peace and reconciliation.
Watch Emmanuel's powerful TED talk.
Watch Emmanuel's "We Want Peace" video. 
Timothy's Gift with Melissa Greene
Timothy's Gift is an innovative prison outreach that was founded by Ron Miller, and led by Melissa Greene. Through music, they infuse hope and light in the darkest places of our culture. Performers include: Melissa Greene, Abby Lane Hinton, Emily Angarole, Beta Angarole, Anna Register and Lauren Wedertz.
Watch Timothy's Gift on NBC's Sing Off.
Ty Herndon
Ty Herndon is an award-winning county music recording artist. Ty has always been all about the ties that bind. You feel it when he's singing deeply moving No. 1 hits like "What Mattered Most" and "Living in a Moment." You get it just as much when he's goofing around with the audience between songs in concert making every attendee laugh. Even in a genre that already prides itself on relatability, he might be the king of connecting.
Melinda Doolittle
Melinda became a household name on season six of American Idol continues thrilling audiences with her powerhouse vocals and charm. Melinda's love for music is eclipsed only by her love of giving back, as she dedicates much of her time to working with numerous charities, especially those that center on improving the lives of children.
The Brilliance
David Gungor and John Arndt. Musically rich, theologically brave, and emotionally honest.
The Liturgists
The Liturgists is a collective of creators, led by Gungor, working together to make thoughtful liturgical work.