The best way to experience the Wild Goose Festival is to camp! That's why a 10′ x 10′ tent camping site is included with every Festival Pass. All camping is first-come, first-served. The campgrounds will open on Thursday, July 13th and you'll have a chance to unload at your site. Please note that cars will not be allowed at camp sites once the Festival has begun. See you at the campfire!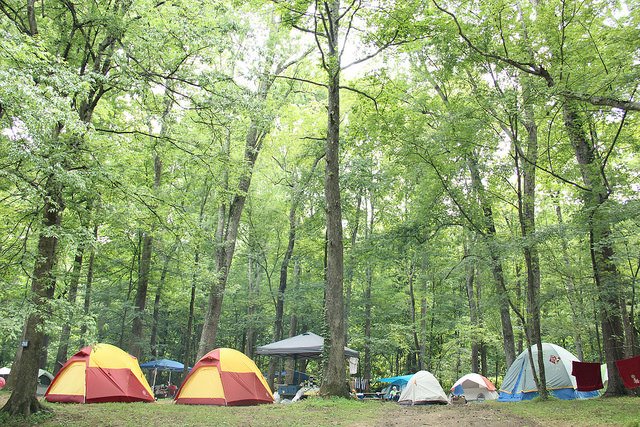 Tent Camping Rental/Set Up
Dana's Camping Edventures takes all of the work out of camping so that you get to just show up, relax and enjoy! She will have your tent, air mattress and chair set up before you arrive and break it down after you leave. She will also have a big campfire for you and whoever you meet to enjoy each night! Dana is arriving Monday July 10 and departing Monday July 17 so if you need to arrive early or stay late she can accommodate you. Go to danasoutdooredventures.com or call 704-650-8508 to make a reservation.
Glamping
Do you want to get the full benefit of Wild Goose, but don't want to camp? Ever tried glamorous camping, or "glamping?" For much less than the cost of a cabin, four adults can glamp all three nights at Wild Goose. All you have to do is show up. More info
More Information and Policies
Please click here for detailed camping information and policies.
You don't camp? There are still options!
There are a number of rental houses and rooms in the hills surrounding Hot Springs. Many of them may already be booked but check out sites such as Vrbo.com, Homeaway.com, and airbnb.com to search for what's available.
Mars Hill University Dorm Rooms Available
Dogwood Residence Hall is the newest residence hall at Mars Hill University, located about 4o minutes from the Festival grounds. You will have access to:
Air Conditioning
Showers
Full Kitchen
Lounge Area
Washers and Dryers
Wi-fi
For more information, and to reserve a room, please download and complete the Wild Goose Festival Reservation Form. Any questions about reserving a room with Dogwood Residence Hall may be directed to Jane Huffman, 828 689 1497.
Accessibility
There are additional options for folks with specific medical or mobility needs. If you have special needs in regard to camping, lodging and/or site accessibility, please contact our Accessibility Coordinator Carrie Craig at carrie@wildgoosefestival.org.
There are a number of chain hotels in Newport, TN (about 45 min away).
The Comfort Inn in Mars Hill, NC  (also 45 minutes away, in the other direction).
You can find better prices on your own than we were offered for group rates, so please contact a hotel directly if you are interested in their accommodations. We're not endorsing any hotel by linking to them from this page, just trying to get you the information you want.
You can find more options and Hot Springs information at hotspringsnc.org.