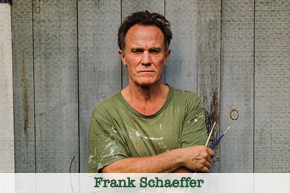 Frank Schaeffer is a New York Times bestselling author of more than a dozen fiction and nonfiction books. Frank is a survivor of both polio and an evangelical/fundamentalist childhood, an acclaimed writer who overcame severe dyslexia, a home-schooled and self-taught documentary movie director, and a feature film director of four low-budget Hollywood features that Frank describes as, "pretty terrible." He is also an artist with a loyal following of collectors who own many of his oil paintings. Frank's three semi-biographical novels describe growing up in a fundamentalist mission and have been translated into nine languages.
Talk – Why I am an Atheist Who Believes in God (How to Create Beauty, Give Love and Find Peace)
Caught between the beauty of his grandchildren and grief over a friend's death, Frank Schaeffer finds himself simultaneously believing and not believing in God – an atheist who prays. Schaeffer wrestles with faith and disbelief, sharing his innermost thoughts with lyricism of literary nonfiction. Schaeffer writes as an imperfect son, husband and grandfather whose love for family, art and life trumps the ugly theologies of an angry God and atheist vision of a cold, meaningless universe. Schaeffer writes that only when we abandon our hunt for certainty do we become free to create beauty, give love, and find peace.