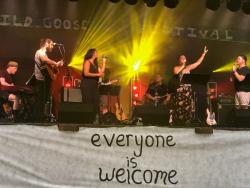 GooseHouse is Shelley Kofahl-Kihn (vocals), Matt Hodges (vocals), Dani Rocca (vocals), Ricky Braddy (vocals), Frank Jansen (keys), Joel Herbert (acoustic), Travis Tingley (electric/acoustic), Debra Lynn Rodriguez (bass), and Chelsea Bowman (percussion).
Shelley is a Doctor of Education who works as an elementary school administrator. She is a former music director (GracePointe Church, Nashville) and co-leads the music team for Timothy's Gift prison outreach. She lives in Franklin, TN with her wife, Rachel, and two kids, Michael and Chloe.
Matt Hodges is vocalist and songwriter who has directed for GracePointe Nashville and Timothy's Gift. He works as a grief recovery specialist, helping people process the pain of tough life experiences.  
Dani Rocca is a singer and songwriter, half of World in Lights and the newest member of the CCM group Avalon. She is pursuing her masters degree in human development at Vanderbilt University.
Ricky Braddy is a graduate of Belmont University, and a long-time resident of Nashville, TN. Having led worship for over 20 years, he is ambitiously seeking new ways to create worship experiences that harmonize with Progressive Christianity. He lives with his partner, Logan, and their Goldendoodle, Sawyer Dean.
Frank Jansen is a pianist and recording artist. He has a master's degree in composition and tours mainly with his wife, ValLimar Jansen.
Joel Herbert is an alt-country singer/songwriter, writer, and half of the duo The World in Lights. He lives in Nashville, TN.
Travis Tingley is an electric guitarist based in Nashville who has toured and recorded with artists including Tori Kelley, 24E, and The Kry.
Debra Lynn Rodriguez is a singer/songwriter, contemplative worship leader, and recording artist. She lives in western NC with her family.
Chelsea Bowman is a drummer born and raised in Atlanta, GA. She is a talented musician/vocalist and plays many instruments.